BORA 838 - history of the yacht
The BORA 838 can be distinguished among other boats at first glance. In the novelties market of serially produced yachts it stands out with its slender figure and distinctive sheer. We made intensive effort to redesign the Kormoran, an old construction of a well-known Polish constructor Aleksander Powalajew.
The interior has been intensively modernized, as well as hull hydrodynamics. The deck was modified to facilitate any modern fittings. We have thus proven that stylish, cozy interior may harmonize with seaworthiness and great pleasure of sailing.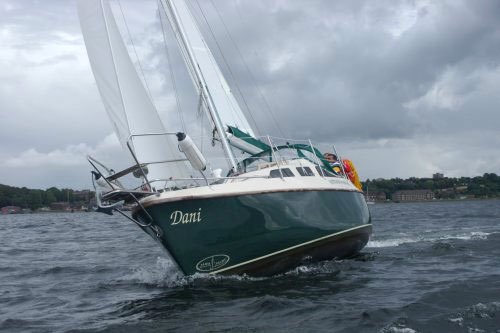 KORMORAN 05 – a description of the yacht in the Polish magazine "Sails" – December 1979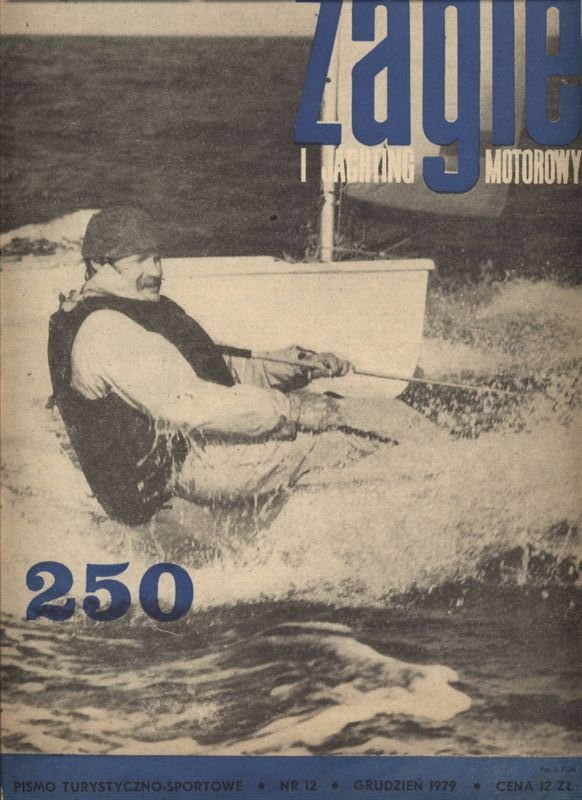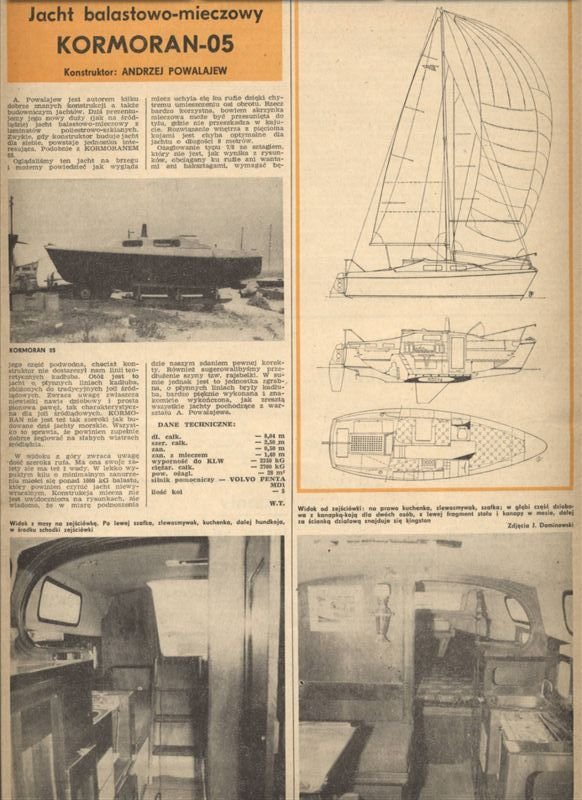 BORA 838 – timeless design
Both models of BORA – fin keel and the long keel/centerboard combination, can cruise all inland basins, as well as the North Sea, Baltic Sea and the Mediterranean.
A beam of 2.55 m makes it possible to transport the boat on European roads without any special permits. In effect, one gains access to a great variety of basins, without the necessity to compromise pleasure and comfort.
Naturally, while building the most important elements, such as the hull and deck, we applied gelcoats and topcoats based on isophthalic resins, as well as powder fiber mats and fabrics, thus meeting EU standards and ensuring a maximum protection against osmosis.
Deck space is carefully planned in order to facilitate maneuverability both in harbor and in the open waters for a single person or a limited crew.
The arrangement of the interior makes an even a few-weeks long holiday onboard a real pleasure.
Main cabin height 1.8m

Comfortable bathroom with sink and toilet (shower installation possible)

Separate fore cabin

Solid mahogany, teak or cherry lining

Numerous and spacious lockers for all stowage needed during long cruise

Special wet clothes locker with gravitational ventilation

Vast leg space under the main cabin table

Spacious berths

Comfortable galley with a 2-burner gimbaled cooker (gas or alcohol)
BORA 838 – technical data
BORA 838 B
| | |
| --- | --- |
| CE category | B – Offshore |
| Lenght overall | 8,98 m |
| Lenght of hull | 8,38 m |
| Waterline length | 7,64 m |
| Width | 2,55 m |
| Waterline width | 2,35 m |
| Cabin height | 1,80 m |
| Draught | 1,40 m |
| Mainsail | 18,88 m² |
| Genoa | 14,07 m² |
| Ballast | 650 kg |
| Displacement | 3.700 kg |
| Weight | ~2.700 kg |
| Crew | 5 persons |
| Engine YANMAR 2YM15 | 14 HP |
BORA 838 BS
| | |
| --- | --- |
| CE category | B – Offshore |
| Lenght overall | 8,98 m |
| Lenght of hull | 8,38 m |
| Waterline length | 7,64 m |
| Width | 2,55 m |
| Waterline width | 2,35 m |
| Cabin height | 1,80 m |
| Draught min. / max. | 0,65 m / 1,57 m |
| Mainsail | 18,88 m² |
| Genoa | 14,07 m² |
| Ballast | 750 kg |
| Displacement | 3.700 kg |
| Weight | ~2.800 kg |
| Crew | 5 persons |
| Engine YANMAR 2YM15 | 14 HP |
BORA 838 – standard equipment
DIFFERENCES BETWEEN THE VERSIONS B AND BS
Model B – deep keel – fixed; rudder – fixed; draught min. 1.4m
Model BS – long shallow keel, centerboard – lifting; lifting rudder; draught min. 0.65m
STATEMENT OF COLOR
1. Deck and hull – white RAL 9003
2. Deck light beige RAL 1013, dark green hull RAL 6012 – option with surcharge
3. Deck white RAL 9016, dark blue hull RAL 5011 – option with surcharge
HULL
Glass-polyester laminate made in vacuum technology using DCPD resins and isophthalic gelcoats, powder mats and fabrics. Reinforced slip feather and bottom grid joint with monolithic module.
Plastic film decoration up on the waterline
DECK
Made with sandwich technology
Under fittings and equipment installation points laminate layer is additionally thickened up to 10 mm
Stainless, double guard rail 2 ft high
Bow platform, 6 guard rail fittings, aft baskets
Bow platform seat
2 teak hand rails on the cabin roof
Folding stern ladder – 4 steps
Mast bearer (for transportation and mast folding)
4 stainless steel mooring cleats (250 mm long)
2 genoa sheet rails with ANTAL cars
2 genoa sheet winches ANTAL XT16
Self-tailing halyard winch ANTAL XT16
One winch lever ANTAL
Halyard's blocks – ANTAL
Halyard's stoppers – ANTAL
Halyard's bags in cockpit
Forecabin deck slide-hatch – LEWMAR
6 port lights with dark PLEXIGLAS # 10 mm
Teak wood finished hatchway: Dark PLEXIGLAS hatchway locker; Laminated hatchway upper locker
Deck lockers and containers: Anchor container, Cockpit seat locker, Cockpit locker under cockpit floor
Non-skid adhesive TBS surfaces
Teak gunwale
BALLAST
Model B – deep keel – fixed, cast iron ballast (650 kg)
Model BS – long shallow keel with leaden ballast (750 kg), centreboard (100 kg) handled by halyard in the cockpit
RUDDER
Model B – Abyssal, balanced, JEFA bearing, bonded teak rudder tiller
Model BS – Abyssal, balanced, rudder blade lifted by halyard and secured with aluminum clam cleat, counter-halyard with cleat, JEFA bearing, bonded teak rudder tiller
RIGGING
Mast (10 m long, one pair of spreaders) and boom made of anodized aluminium
Standing rigging 5 mm: stay, side stays, shrouds, aft stay tightened with aft-stay sheet
Easy and comfortable access to main ropes from the cockpit
SAILS
Standard of sails: Fibercon Pro Radial 280 g/m2 material, radial sewing
Mainsail, 18.88 m², 4 full-battened, sliders + batten cars, Fast reef system – one rope handled from the cockpit, two reefs possible, LAZY JACK cover, tissue UV-resistant
14.07 m² genoa, UV resistant stripes on foot and leech
ENGINE
Stationary engine YANMAR 2YM15 – 10,3 kW (14 HP), with two cooling cycles, mounted in a sound absorbing lined engine chamber, full equipment:
– Propeller shafting with 2 blade solid propeller 15″ x 11,
– Outboard water inlet and filter,
– Exhaust shafting,
– Starting battery AGM 55 Ah with battery charge system,
– Engine chamber and battery locker ventilation,
– Control panel and gear lever in the cockpit, easily accessible to helmsman (engine-speed indicator, working hours counter, cooling liquid, oil and charge indicators),
– Fuel installation with 40 L tank, fuel level indicator, onboard inlet and tank vent.
INSTALLATIONS: ELECTRIC (12V), NAVIGATION
100 Ah battery – AGM
Main switch
Electric panel with 12 automatic fuses and switches
12 V socket
Interior lights – 6 LED lamps 10 W
Complete navigation lights AQUA SIGNAL
PLASTIMO CONTEST 101 backlighted compass
INSTALLATIONS: WATER, BILGE
Pressure fresh water installation (100 L tank, deck inlet, 2 taps – bathroom and pantry, 12V pump)
Electric bilge pump activated automatically after the well flooding
Manual bilge pump one operated from cockpit
BOAT INTERIOR
Made with high quality marine plywood, finished with sapelli mahogany; spray varnished with semigloss polyurethane.
MAIN CABIN – SALOON
5 lockers under the half decks
Folded table
Port side seat for three persons (single berth, optional folding for double)
Starboard seat for 2 persons
Vast lockers under the seats
3 step stairs folded with non-skid teak surface
Plywood floor
Pillar with stainless steel
KITCHEN – GALLEY
Laminated module made with gelcoat imitating marble
Sink with outboard water outlet through cut-off valve
Cutting board – sink cover panel
Locker with slidable doors under the half deck
Locker with three shelves on the pantry's right side
Two lockers – under the kitchen and sink
1. Complete gas installation: gimballed gas cooker (ENO), two burners, one pot holders, one gas bottle 2 kg, reducer, ventilated gas bottles container cockpit accessible
or
2. Alcohol (ORIGO 3000) cooker, two burners, Cardan shaft, two pot holders
Stainless steel vent (above pantry)
SEPARATE FORECABIN
Double berth
Shelves on each side
Stainless steel vent
STERN SINGLE BERTH
Lockers whole berth long
Shelf on the side
BATHROOM – HEADS
Laminate module with washbasin, outboard water outlet plus cut-off valve
Wet clothes locker
Locker under the washbasin (one shelf inside)
Locker with slidable doors over the washbasin
Shelf besides the toilet
Porta – Potti chemical toilet with 20 L waste tank
Stainless steel vent
UPHOLSTERY
Mattresses on each berth and seat (several different design types available)
Lined seat supports in the main cabin
Both sides lined with soft velours
Deck ceiling: white leather-like lining panels
WARRANTY
Yacht's construction and workmanship meets European Union CE standards (for cat. B – Offshore).
Every part or element mounted at the boatyard has 3 years guarantee.
For laminate shells we give 6 years guarantee against osmosis.
FOLDERS AND PRESENTATIONS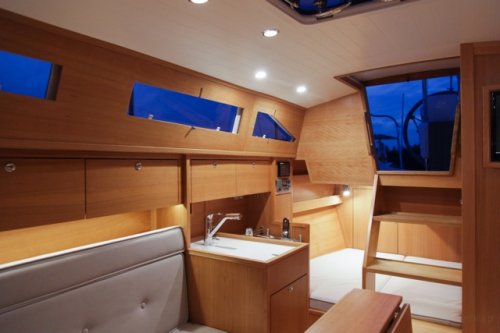 BORA 838 – Folder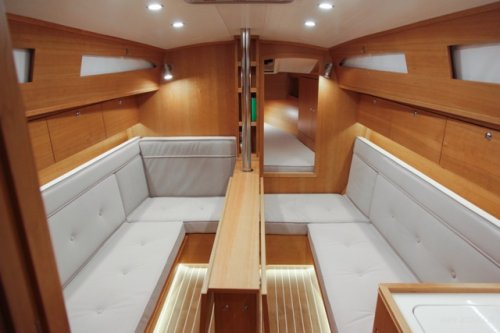 BORA 838 – standard equipment